NEWS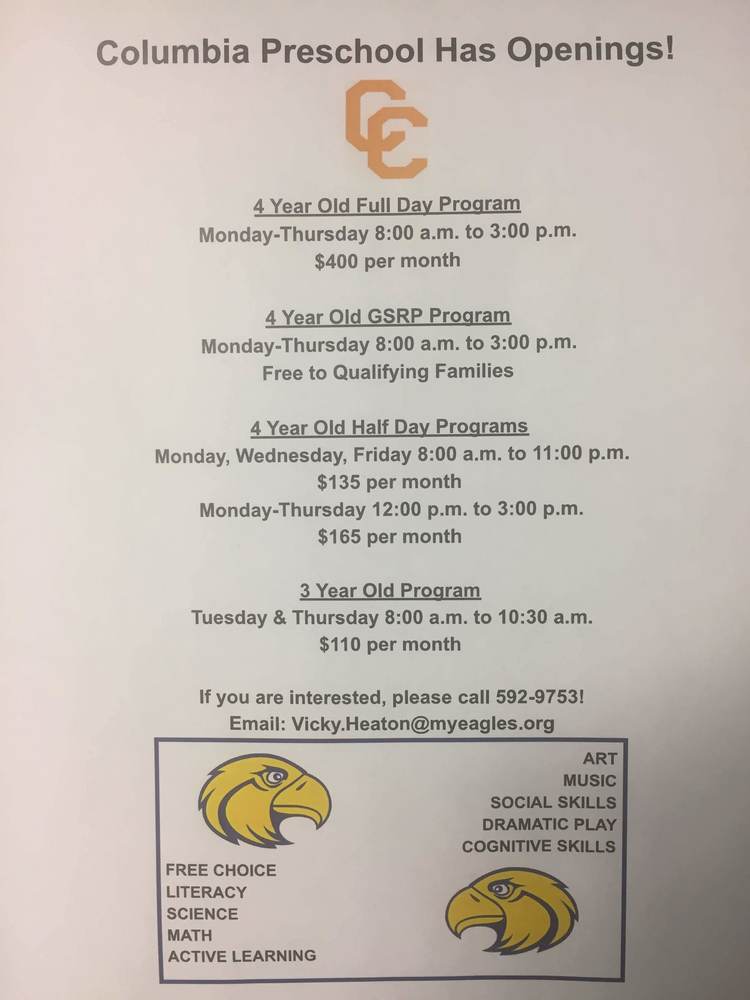 COLUMBIA PRESCHOOL offers Art, Music, Social Skills, Dramatic Play, Cognitive Skills, Free Choice, Literacy, Science, Math and Active Learning! Please call Vicky @517-592-9753 for more information...
SEE ALL NEWS
LIVE FEED
COLUMBIA PRESCHOOL OPEN HOUSE is Tuesday, April 23rd from 5:30 - 7:30 p.m.. We offer 3 and 4 year old preschool programs, free to those who qualify. If your child is turning 2 years 9 months by December 1st, stop by April 23rd to visit our classrooms and meet our happy teachers!
about 1 month ago |
Trudy Wright
Kindergarten Open House! Please join us tonight from 6:30-7:30 p.m. at CES. Meet K teachers, ride a school bus, visit K and Young 5 classrooms. Hope to see you there!
2 months ago |
Trudy Wright
Due to the safety of our staff we will be closing the Fitness Center at 5 pm today, January 28, 2019. All afternoon classes (Zumba and Spin and Stretch) have been cancelled. We will be open tomorrow morning at 5:30 am.
4 months ago |
Monika Cook
Earlier today we were notified that an employee, Mrs. O'Neil, has had her name used with a gmail email address. All Columbia Employees use their MyEagles.org addresses for their professional emails. If you receive an email from what appears to be the personal email of one of our employees, please mark it spam, delete it and do not return the email.
4 months ago |
Pamela Campbell
SEE ALL POSTS
Events