NEWS
The Columbia Community Fitness Center "Run in Remembrance" Kids 1 mile run/walk and 5K run/walk registration is OPEN. Click on the link to register: https://forms.gle/bjmAUydrQWXvac986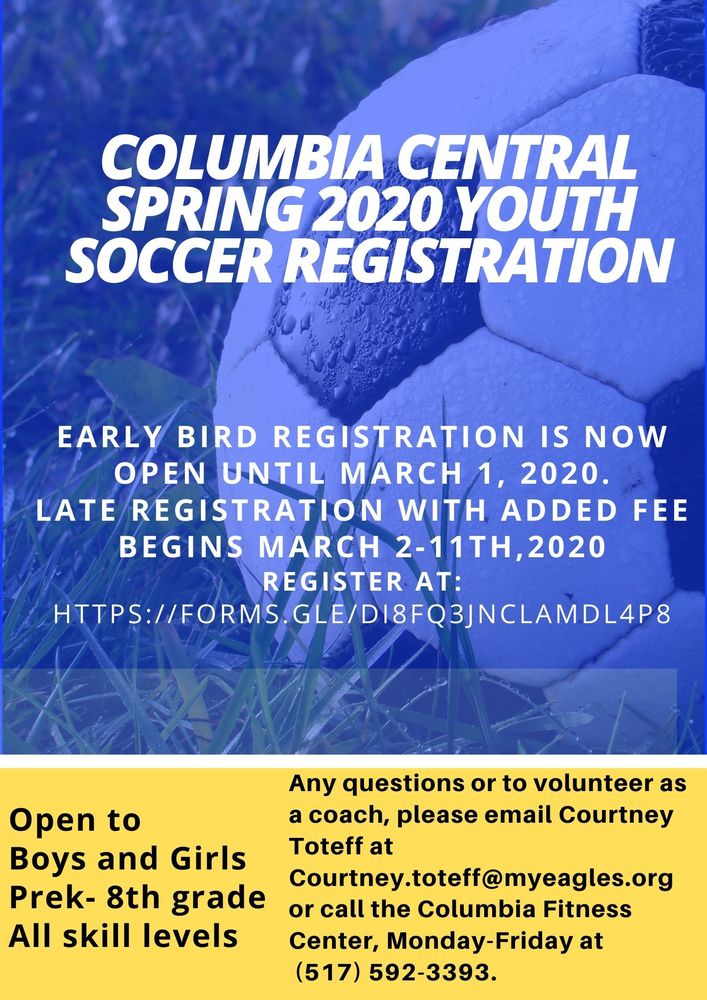 2020 Spring Soccer Registration is NOW OPEN. A flyer will be sent home soon. Click the link to register. https://forms.gle/ic5nMfqFb4XB...
Join the Columbia School District team! We are in need of lunchroom/playground aides and bus drivers. Click on the link below for more information: Job Opportunities
SEE ALL NEWS
LIVE FEED
Just a reminder! Evals are this weekend Baseball- Saturday February 29th at CCHS Gym 9-1030am 14U 1030-12pm 12U 12-130pm 10U Softball- Sunday March 1st at CUES Gym 1-230pm 10U 230-4pm 12U TEE-BALL and 8U do not have evaluations.
about 10 hours ago |
Courtney Toteff
The Columbia Community Fitness Center "Run in Remembrance" Kids 1 mile run and 5K run/walk registration is OPEN. Click on the link to register: https://forms.gle/bjmAUydrQWXvac986
8 days ago |
Courtney Toteff
Class of the Week: Gentle Yoga- ( Tuesdays 9:45-10:30am ) This class is great if you want to slow it down and really stretch. You gentle flow from move to move with soft and rejuvenating music. A great class if you have had a stressful day or need to just breath and relax.
16 days ago |
Courtney Toteff
Happy Nutella Day! If you like Hazelnut and Chocolate why not mix up your basic peanut butter and jelly sandwich and add Nutella instead. You can even substitute Nutella in your bread recipes, cookies and drinks. #NutellaDay
23 days ago |
Courtney Toteff
SEE ALL POSTS