NEWS
The Columbia Community Fitness Center "Run in Remembrance" Kids 1 mile run/walk and 5K run/walk registration is OPEN. Click on the link to register: https://forms.gle/bjmAUydrQWXvac986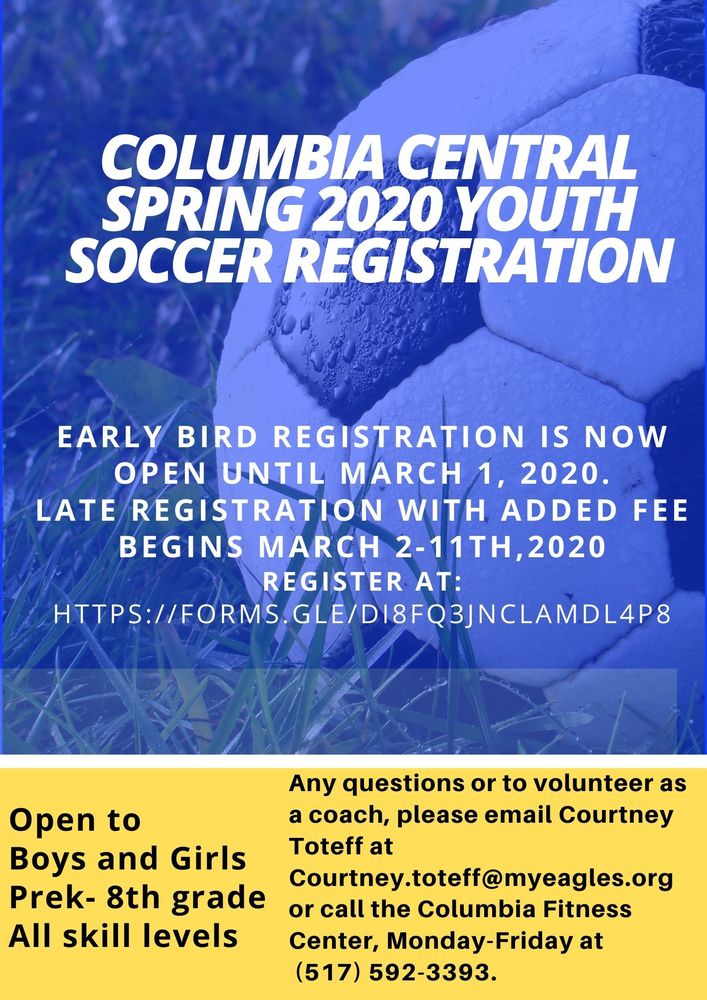 2020 Spring Soccer Registration is NOW OPEN. A flyer will be sent home soon. Click the link to register. https://forms.gle/ic5nMfqFb4XB...
Join the Columbia School District team! We are in need of lunchroom/playground aides and bus drivers. Click on the link below for more information: Job Opportunities
SEE ALL NEWS
LIVE FEED
Due to the State of Emergency and the school closings the Fitness Center is CLOSED until April 6th. All youth pratices and activites are CANCELLED also.
15 days ago |
Courtney Toteff
National Pack Your Lunch Day: It encourages everyone across the country to take their lunch to work, school or where ever they're spending the day. It's a great opportunity to eat fresh and healthy.
18 days ago |
Courtney Toteff
Weekend Workout view image
22 days ago |
Courtney Toteff
NATIONAL AWARENESS: March 4 is the only day on the calendar that's also a military command. We celebrate the servicemen and servicewomen in our lives with National G.I. Day. Soldiers in the U.S. military including members of the Army, Air Forces, and Marines.
24 days ago |
Courtney Toteff
SEE ALL POSTS