Good afternoon Parents and Guardians, This is just a reminder that the sign-up for the May Washington DC trip ends TOMORROW, September 30th. If you haven't already and are interested in signing up, please visit worldstrides.com/register using trip ID# 199873. If you have any questions, please contact Mr. Riedel @
Rob.Riedel@myeagles.org
. Thank you and have a great day!


Free Breakfast is now available for all Columbia School District students!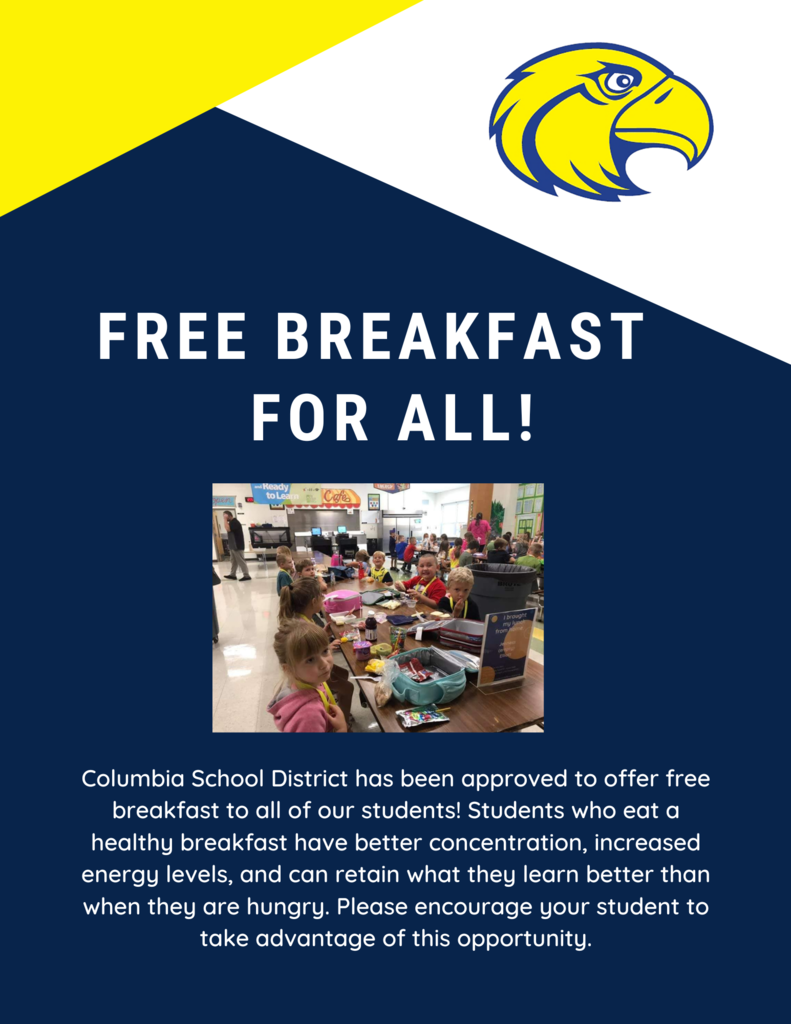 Reminder-Welcome Back to School Parent Meetings for 7th grade, 9th grade, and new students to the district will be held Thursday evening. 6-6:30 PM-7th grade, 6:45-7:15 PM-9th grade and new students to the district. Have a great evening!
We're having our first Jr High robotics meeting tonight. We can't wait for the big reveal of our game this weekend! We are still taking new members. Anyone interested in joining can come to our next team meeting Thursday from 6-8. Contact Mrs Holbert if you have any questions.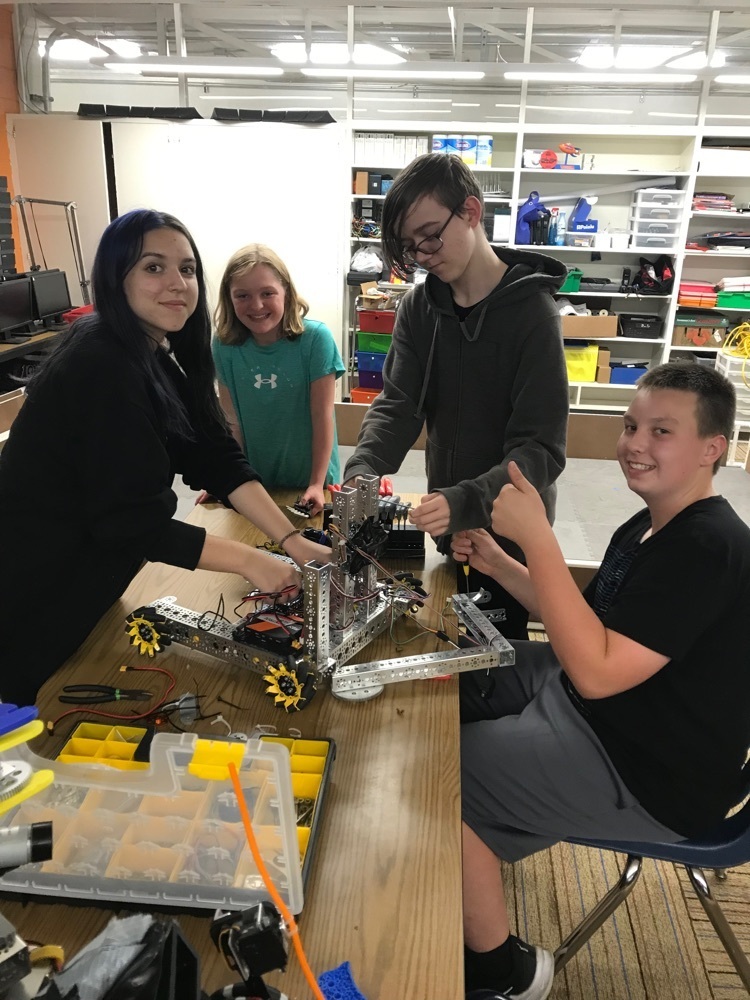 Another day, another sports update… JV and V Soccer - Canceled at Northwest due to lack of officials. Make up date TBD. JV Football - Due to current lack of power determination will be made at NOON if the game will be moved to Adrian High School. Jr. High Volleyball - Due to the power outage and school being canceled for the day, 7th & 8th grade girl's volleyball tryouts will be pushed to tomorrow, Thursday, September 1st, and Tuesday, September 6th, from 3-5 in the fitness center gym.
Columbia School District is closed today, Wednesday, August 31st, due to the power outage at one of the buildings. Child care is open.
The parent meeting for 7th grade, 9th grade, and new student families has been canceled for this evening. The new date will be Thursday, September 8th. 7th grade-6-6:30 PM, 9th grade and new students to the district-6:45-7:15 PM. The meeting will be held in the auditorium.
Due to the power outage 7th & 8th grade girl's volleyball tryouts will be pushed to tomorrow and Thursday (August 31st and September 1st) from 3-5 in the fitness center gym. There will not be any tryouts tonight. See you all tomorrow!--

Columbia School District has a building with out power this morning. Due to the power outage, Columbia School District is canceling school for all students today, Tuesday, August 30th.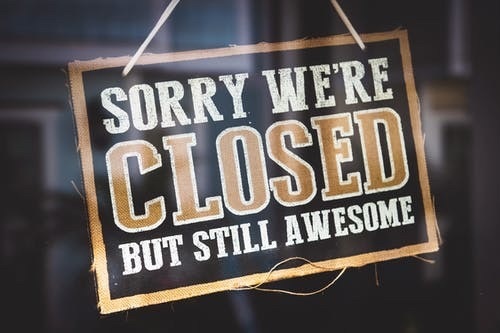 7th and 8th Grade football starts tomorrow Monday, August 22nd @ 3:00 pm! Please report to the junior high locker room (in the fitness center) for helmets and pads. You must have a current physical (dated on or after April 15, 2022 to be able to practice (you can still get your

All incoming 7th and 8th grade volleyball players- We will be having two open gyms in August. The first will be on August 18th, 3:00-4:30 in the high school gym. The second will be August 25th, 3:00-4:00 in the fitness center gym. These are NOT mandatory, they're just an opportunity to get in the gym and get your hands on a ball. Tryouts will be announced at a later date. A friendly reminder-you must have a physical to try out and it must be dated April 15th, 2022 or later.

Join us for the Golden Eagle Run/Walk 5K on Saturday, July 16th!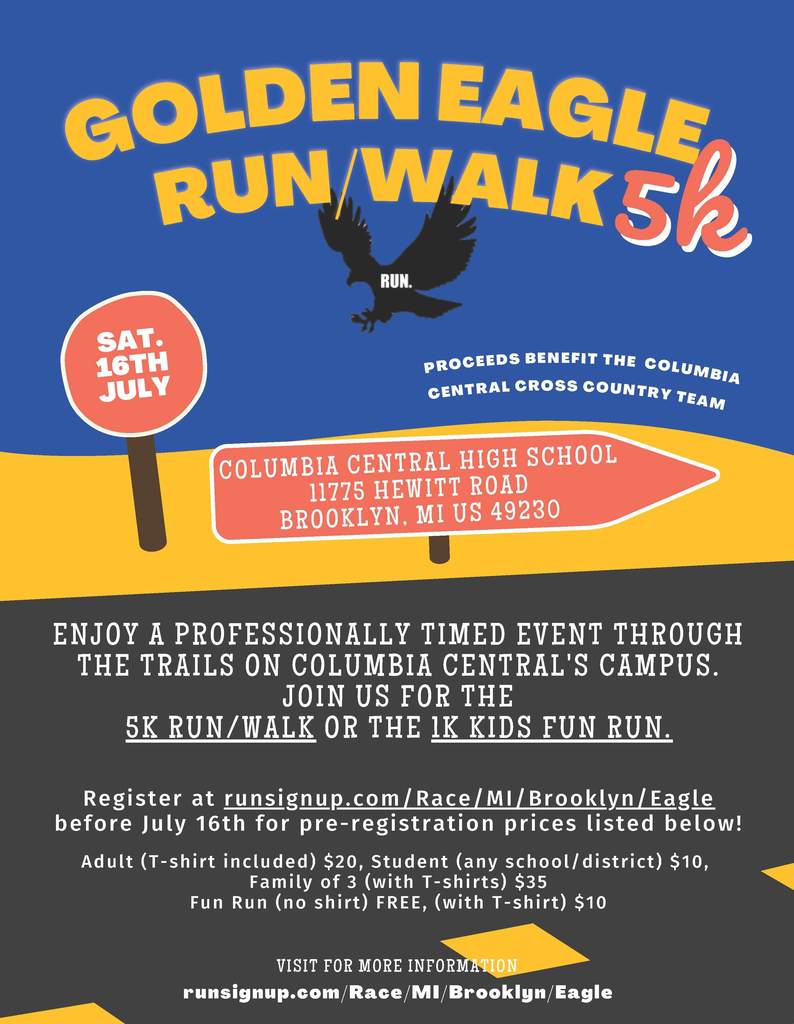 Meijer hosts a State Tournament and one of our CCJH students, Parker, played for the District 6 hockey team. The different districts compete against each other, all based on where you live, and the roster included their school names. Parker was very proud to represent Brooklyn and Columbia Central! His team ended up with Silver! Way to go Parker! We are so proud of you and your team!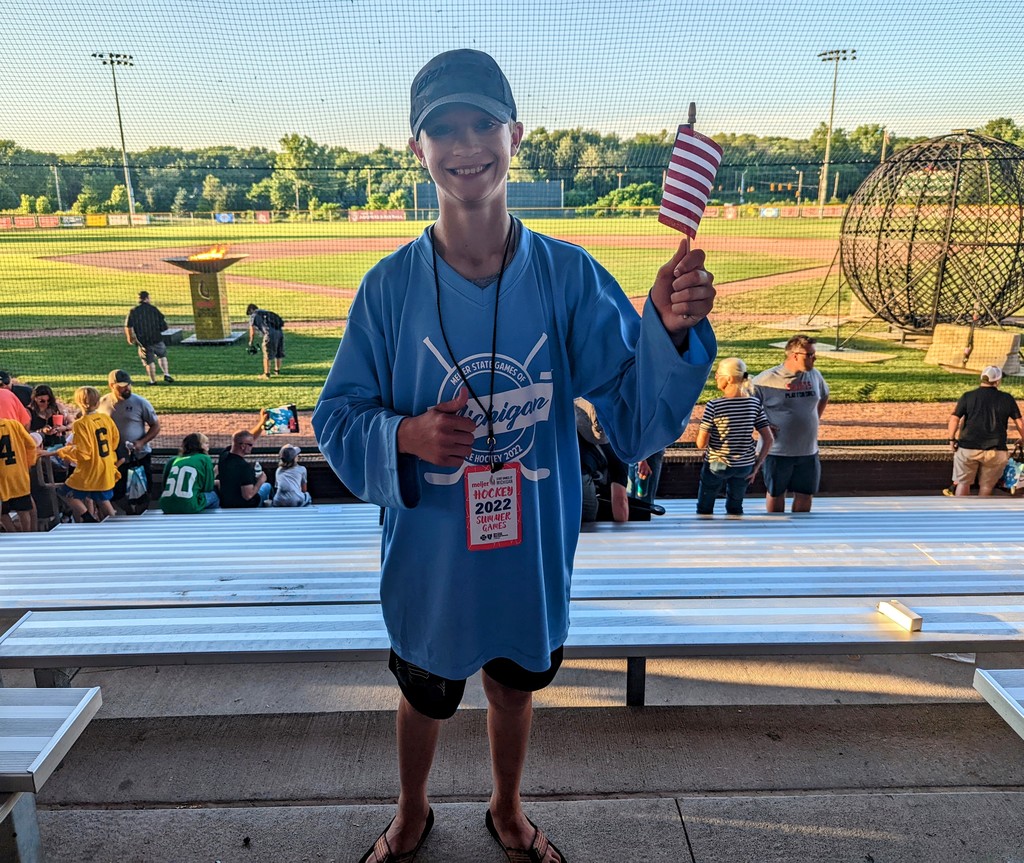 Ms. Korn, Columbia Central students and families enjoyed their time in Quebec City. They experienced a walking history and tasting tour of old town, and an interesting boat ride on the St. Laurence.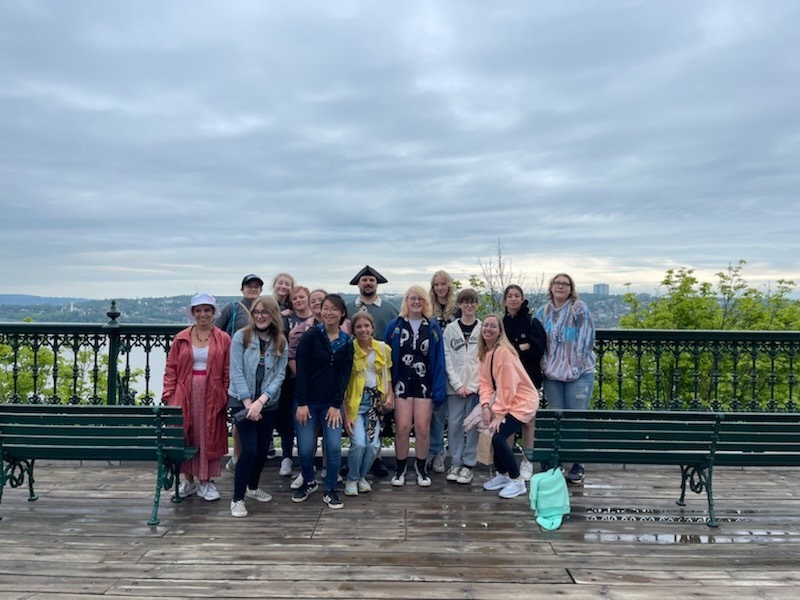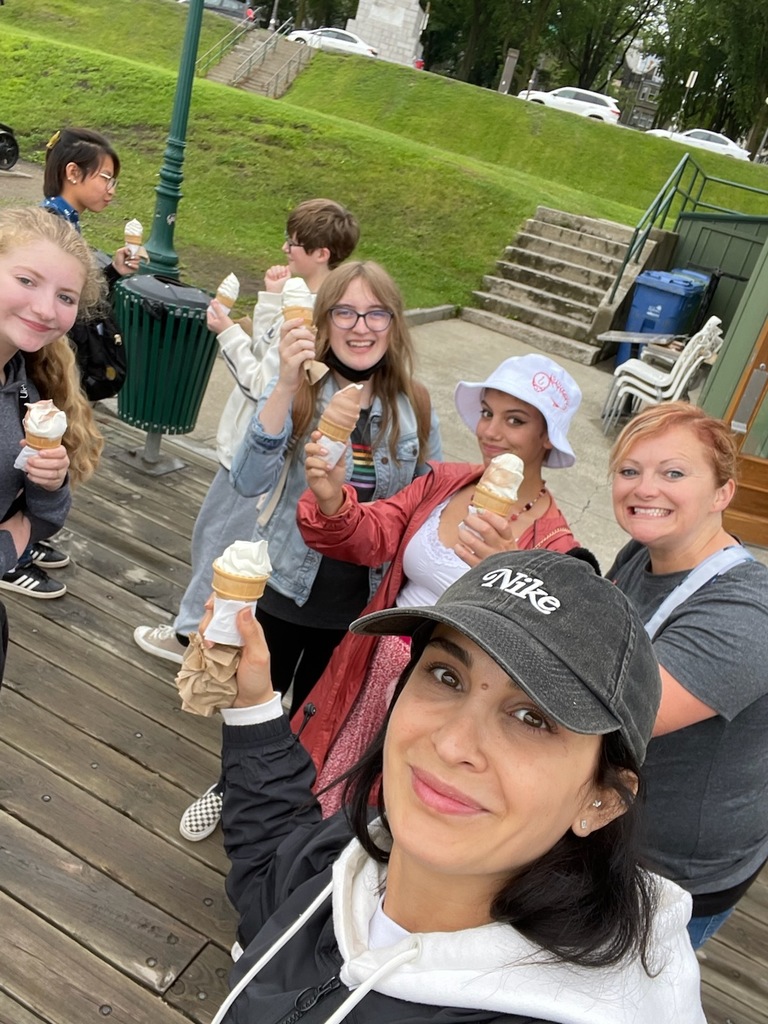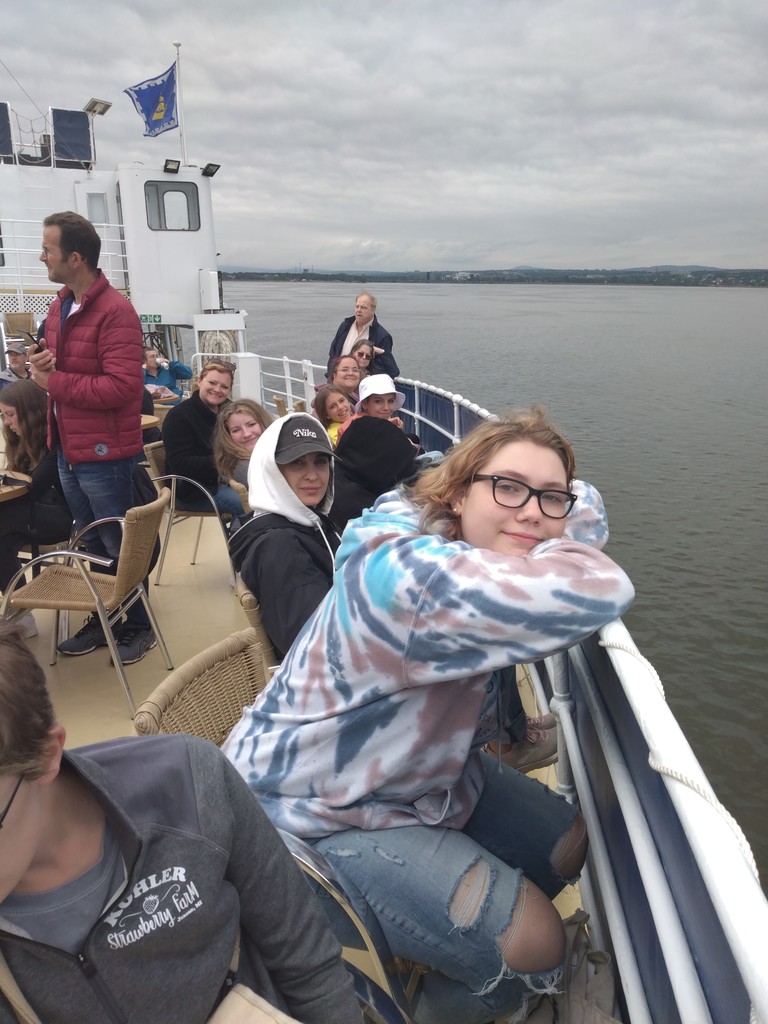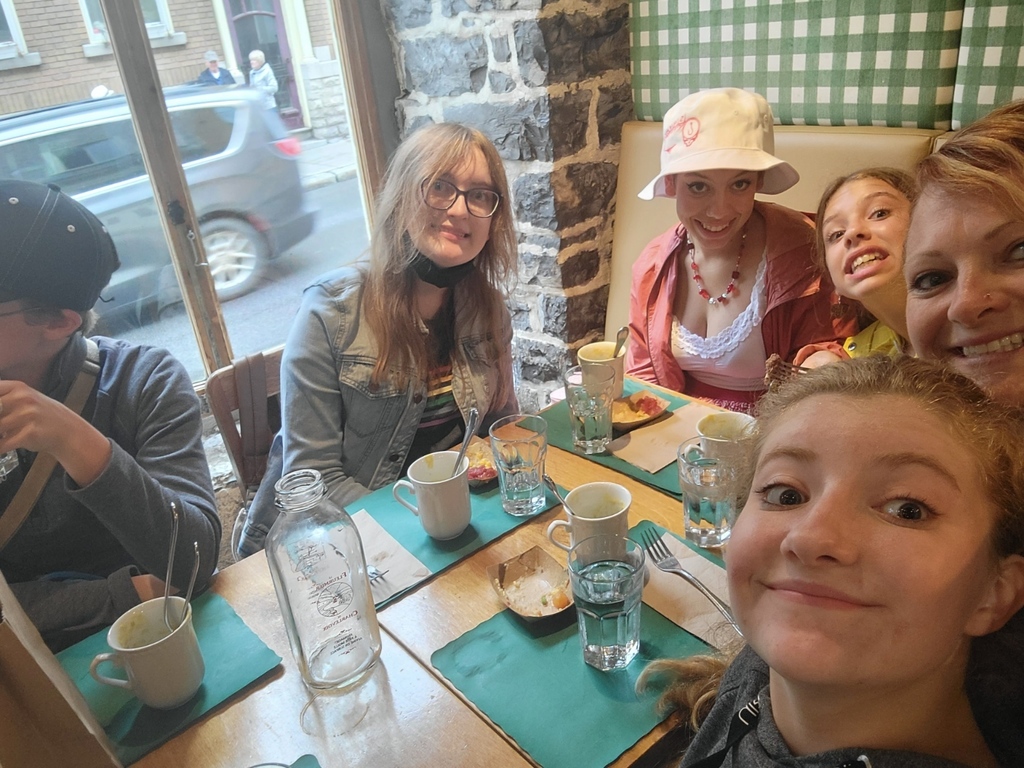 Junior high students are completing their final projects and tests for each class this week. Thursday is our last half day of school with dismissal at 11 AM. The 8th grade celebration will be held on Thursday at 9:45 AM.
Congratulations to our new National Junior Honor Society members! We are so proud of your dedication to academics and service! Way to go CCJH!💛💙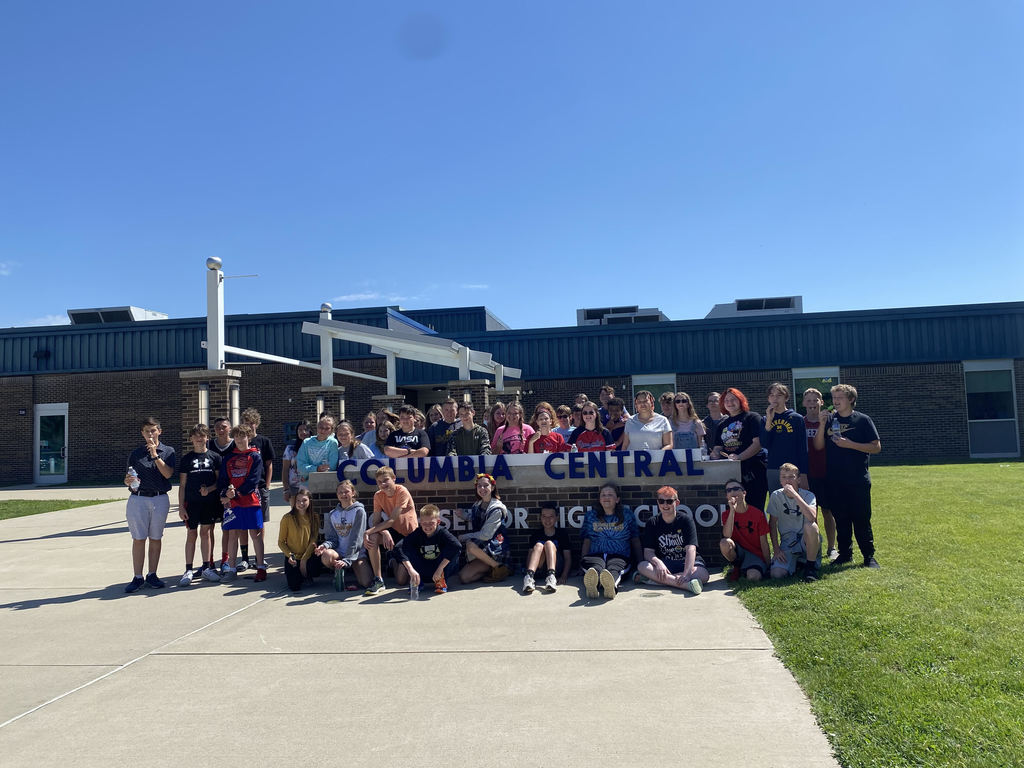 Join us for the 💛🦅💙 first annual Golden Eagle Run to support the Columbia Central Cross Country Team. Enjoy a professionally timed cross country style 5k run/walk through the trails on Columbia Central's campus. The route will take you through our trails, and ends on the CC track. This is a course that is both scenic and challenging! The Golden Eagle Run/Walk is Saturday, July 16th and starts at 9:00 AM. Kids Fun Run starts at 9:30 AM behind the Columbia Central High School. Sign up here:
https://runsignup.com/Race/MI/Brooklyn/Eagle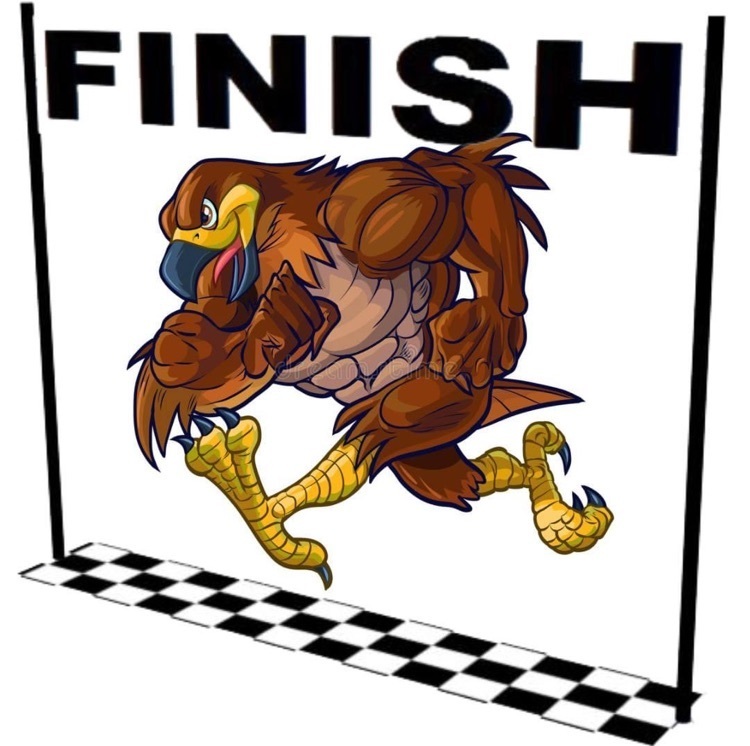 If your child has been invited to attend Summer School, please contact the office to confirm if you child is planning to attend by Thursday, June 2. We also need to know if your child plans to utilize district transportation for Summer School.