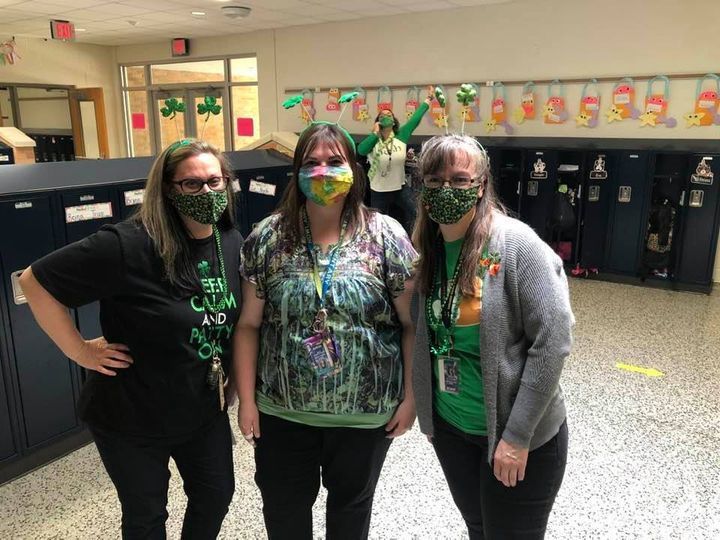 Columbia Hero: Mrs. Aguilera!
Pamela Campbell
Thursday, March 18, 2021
Columbia School District has many fabulous teachers. Beginning with our youngest children at Columbia Elementary School, our students experience amazing educational opportunities. Columbia has teachers that are Heroes! Our community members and parents nominated many of our teachers and staff members for the Columbia Hero Award. Krista Tripp and Liz Sirola nominated Columbia kindergarten teacher Mrs. Aguilera as a Hero for her work with her students. Ms. Tripp noted that, Mrs. Aguilera "has been patient, caring and kept learning fun during virtual and in person learning!"
Ms. Sirola wrote, "Mrs. Aguilera is simply incredible. She cares relentlessly for the academic, social and personal well-being of her students, past and present." At Columbia our teachers pay special attention to their pupils and focus the educational activities to help promote successful academic development. When Mrs. Aguilera was notified that she had been nominated as a Hero, she exclaimed, "Wow, what an honor! I am truly blessed to work in this district. I love teaching Kindergarten! I have a job that is so much fun!"
Krista Tripp mentioned how please she is with Mrs. Aguilera. She continued by saying, "I am so thankful for her and so is my daughter! She's awesome and we love her." In her email, Ms. Sirola said about Mrs. Aguilera, "Through unwavering positivity she builds skills and self-confidence. Mrs. Aguilera tirelessly searches for new resources to help everyone reach their potential. Mrs. Aguilera broadens horizons while making the world a smaller place with bi-lingual wordage and cultural awareness, embracing and celebrating our differences."
Ms. Sirola elaborated in her email and wrote, "Mrs. Aguilera has been an absolute God send to our family and I couldn't imagine my sons having a better introduction into their Columbia school careers." Mrs. Aguilera said that she loves teaching and it is easy to see that in her classroom. She beams when she is teaching her students. She said that, "One of my favorite things about Kindergarten is that I begin the year off teaching letters and sounds and I'm part of the journey of students becoming confident readers and writers. I love to see what makes them excited to learn. I enjoy our discussions as we learn about topics that relate to Kindergartners." Mrs. Aguilera talked about her love of teaching her students. She mentioned that, "Working with families and teaching siblings is one of the highlights of this position as well. Teaching is my jam and I am proud to be at Columbia doing what I love!"
Congratulations to our Columbia School District Hero Amanda Aguilera! Her determination to make a difference in the lives of our students and give them an opportunity to grow and mature, has made a positive impact on hundreds of children. If you see Mrs. Aguilera, please tell her "Thank You" for all she does each and every day for our students! If you are interested in learning more about Columbia School District, please contact me at 5175926641 or email Pamela.Campbell@myeagles.org .