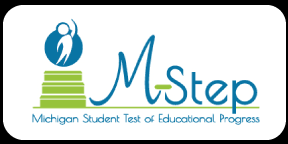 M-STEP Information Released
Jennifer VanWagnen
Thursday, August 30, 2018
This spring, your student took the Michigan Student Test of Educational Progress (M-STEP). M-STEP assessments measure what students know and are able to do in relation to Michigan's Content Standards established for each grade and subject. All students in grades 3-8 were assessed in Mathematics and English Language Arts. In addition, students in grades 5 and 8 were assessed in social studies.
M-STEP individual reports will be sent home today. This report provides an overview of your student's performance on the M-STEP. Please remember that these assessments are only a snapshot of achievement.
For additional information on the M-STEP and Michigan Content Standards, please visit www.michigan.gov/mstep. For more information regarding how to read and interpret the 2018 M-STEP student scores, please visit Parent/Educator: How to Read M-STEP and MME Fall 2018 Report on Student Scores.
Michigan students are our most important resource. Parents/guardians, schools and teachers succeed when they work together to support and inspire student achievement. We appreciate the partnership we share, and encourage you to contact us should you have any questions or concerns.
Thank you,
Jennifer VanWagnen, Principal
Columbia Upper Elementary School