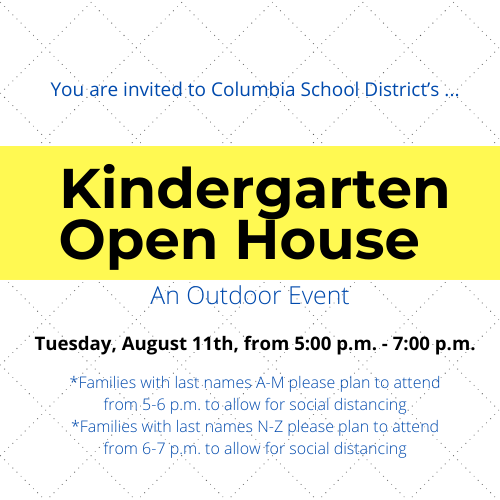 Kindergarten Open House
Monika Cook
Tuesday, August 04, 2020
You are invited to Columbia School District's ...
Kindergarten Open House
An Outdoor Event
Who? Incoming Young Five & Kindergarten Students
*For any child who turns 5 before December 1, 2020
When? Tuesday, August 11th, from 5:00 p.m. - 7:00 p.m.
*Families with last names A-M please plan to attend from 5-6 p.m. to allow for social distancing
*Families with last names N-Z please plan to attend from 6-7 p.m. to allow for social distancing
Where? Columbia Elementary School, 320 School Street, Brooklyn
What?
Register for Young Fives & Kindergarten

Meet the K/Y5 Teachers, Secretary, Counselor and Principal

Ride the Bus

Meet your child's teacher using their outside classroom entrance

Ask questions about Virtual Learning, Young Fives, Kindergarten, Transportation, and the Childcare Program

Receive a Kindergarten Readiness bag with fun materials for practicing letters and numbers at home

Receive a WELCOME bag with a free t-shirt and Columbia goodies
We hope to see everyone there!
*Everyone 5 years old and older is required to wear a mask.
*Please limit attendees to Y5/K students & immediate family only to allow for social distancing.
*This is the only Kindergarten & Y5 Open House. The Open House on August 24th will be for families of 1st and 2nd graders only. Please contact CES office (517)592-6632 if you have any questions regarding Open House or the 2020-2021 school year.
*Please bring your child's birth certificate & two items to prove residency, such as a driver's license, electric bill or rental agreement. We invite students who live outside of the Columbia School District to apply for School of Choice. We are so glad you are here!