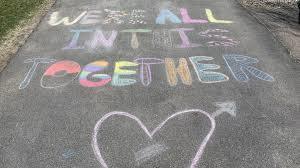 Chalk the Walk
Christi O'Neil
Tuesday, May 19, 2020
Who needs a little break from their routines? Turn your focus and creative energy to the first ever, Columbia Community Chalk Walk!
Using chalk or other ways to create a sign, write an exercise activity at the end of your driveway so the people passing by can JAZZ up their walk. Remember to be safe and if you live on a busy road, maybe travel to a nearby neighborhood and see what fun they've created for you. Ideas include standard exercises like jumps, hops, stretches and the number they should complete, for instance 5 jumping jacks. You can also create a different type of movement like hopscotch boards, mazes, dance moves, obstacle courses spins and swirls! Let your imagination soar!
Chalk your walk on Thursday and Friday so we have this glorious weekend to enjoy. We encourage you to keep it going all summer long. Everyone enjoys a good walk in the fresh air, with our awesome Columbia Community!