EDIT MAIN
PUBLIC NOTICE - CONFIRMED & PROBABLE CASES
All positive COVID-19 cases among CSD staff and students will be posted here. In accordance with the MDHHS Emergency Order Under MCL 333.2253 - Reporting of Confirmed Cases and Probable Cases of COVID-19 at Schools, the following actions will take place for each positive case:
The individual(s) in question will be quarantined from work/school until released to return by the Jackson County Health Department.
The CSD will work closely with the Jackson County Health Department to conduct contact tracing. Those individuals who are determined to have been in close contact with the COVID-19 positive individual(s) will be personally contacted by someone from the Health Department for additional guidance.
The CSD custodial staff will conduct additional, deep cleaning of the classrooms, office, bus, or other space that was occupied by the COVID-19 positive individual(s) prior to it being reopened for staff and/or students. The cleaning will be performed in accordance with the United Centers for Disease Control and Prevention ("CDC") guidelines. After many hours of diligent meeting, planning, and deliberating, the Columbia School District has finalized the Return to Learn plan for the 2020-2021 school year. The plan has been devised from the guidance of the State of Michigan's Return to School Road Map in conjunction with the Jackson County Health Department and CDC recommendations. Please click on the appropriate link for the details of the plan as well as links to applicable documents. Within the plan is a link to make the choice for your child to attend school face to face or online. Please complete the required Commitment form for each child individually.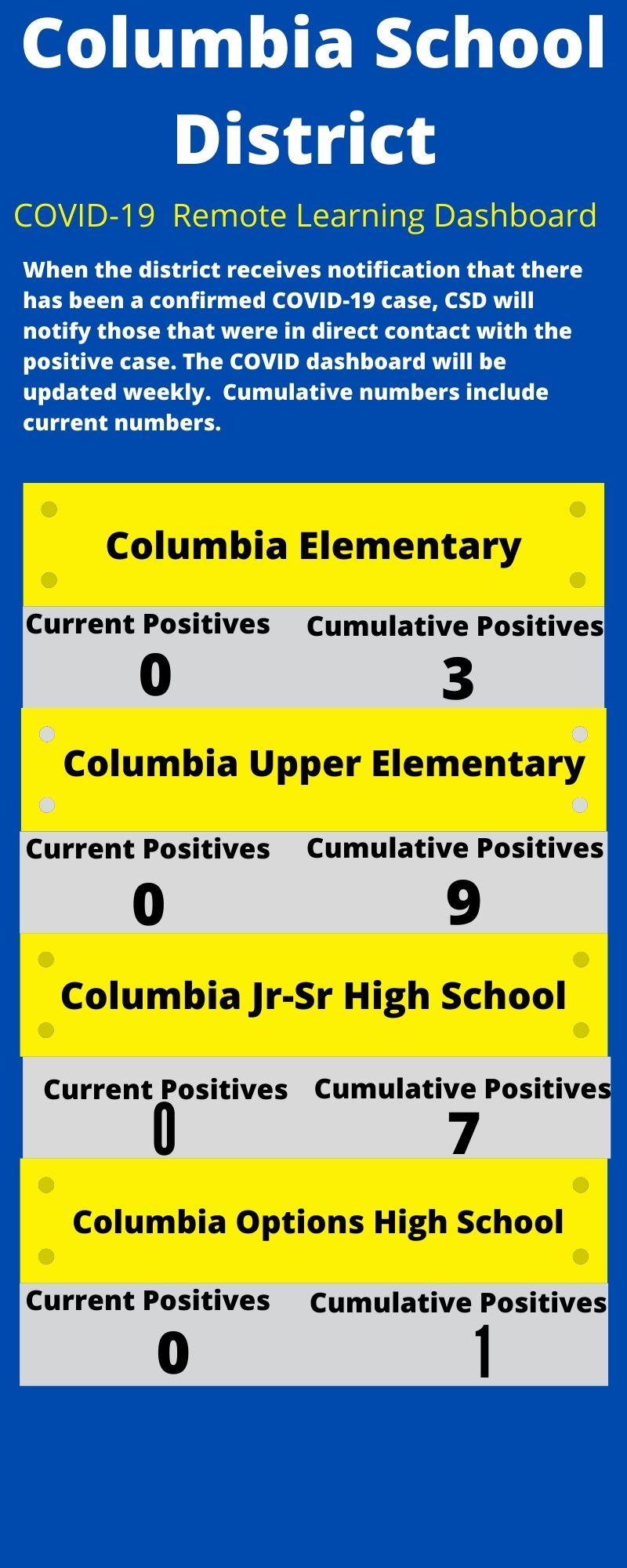 Columbia Central Jr.-Sr. High School
Columbia Elementary School (PreK-2)
Columbia Upper Elementary (Grades 3-6)
---